L'Onda de Vapor?
Ausgerechnet Patagonien! Die karge Landschaft im Süden der Südhalbkugel, welche allenfalls sonnengegerbte Gauchos durchreiten? Eine unvorstellbar weite, uns völlig fremde Region in dem ebenso fremden Argentinien. Doch abseits von südamerikanischer Folklore und dem obligatorischen Tango, erklingen plötzlich vertraute Klänge im digitalen Äther: Muzak, süß wie Dulce de Leche, garniert mit Samples einer nunmehr nachweislich weltumspannenden US-Popkultur und dazu: leicht atonaler Gesang voller Herzeleid. Das ist eccodroid, die singende Diva des Hypnagogic Pop! Subantarktischer Vaporwave! Dieses Interview musste so kommen.
▾ In einer nachdenklichen, sozusagen transatlantischen Konversation habe ich mit dem anonymen Künstler aus Trelew (Argentinien) über Musik, Kunstwerk und Inspiration gesprochen. Zeitverschiebung und mangelnde Sprachkenntnisse auf beiden Seiten führten mitunter zu allerlei putzigen Missverständnissen, die vermutlich durch das virtuelle Aufeinandertreffen von ADHS und Asperger Syndrom sowieso schon vorprogrammiert waren.
---
HCW: Having you for an interview is an amazing thing, even nowadays. Here we are, living thousands of kilometers away from each others, divided by endless continents and salty oceans. Sending you my questions via email made me think about the unfortunate fact that we use state-of-the-art technologies for communication and information transfer, yet we don't learn much about each our countries. In school, Geography and History classes only gave us vague insights. Despite of having read quite a bit about your south-american republic lately, I have to admit: I can't imagine how the daily life of a young man in Argentina would look like. As far as I know your from Trelew. So how's life in Patagonia? Got any welsh ancestors?
ED: The pleasure is mine! Well it's kinda the same here: whenever you say Germany, the first things that come into my mind are people dressed up like yodeling singers, happily dancing with lots of beer and sausages. I guess life isn't that different from there, same routines and stuff. Probably what stands out from the Patagonia is that it's quite a dry windy place with no mountains around so the wind can blow full force whenever it pleases. Exactly, i'm from Trelew which as you seem to know, it was founded by welsh people, as well as some of the other near cities around. Although i'm not in touch with the Welsh legacy (which is stronger in another city called Gaiman, where they have the famous Welsh Tea houses) they're part of the city indeed whenever you meet someone which surname is Jones, Williams or Evans, whenever you see those weird words full of consonants (i barely can say Eisteddfod merely because of so many times i heard the word) or those old chapels around the city. In my case, my ancestors are Italian and i was so close of being born in the heart of the country, but for things i never understood (and luckily) my mother ended up in this city so far from where she was born, which i'm so thankful for because i love my city.
HCW: Well, actually the knowledge of each our countries' music may differ, though. Sadly enough, I couldn't name an Argentinean band. All we Germans know, if at all, about your country's music is Tango. Then again I'm sure you have heard of German bands like Kraftwerk or the Krautrock movement, which was an interesting crossover between Jazz, electronic music, Prog or Psychedelic Rock and Pop. But I guess there's so much to discover in Argentina as well. Perhaps you could give us a brief insight of your local music scene? How can we imagine contemporary Argentine Pop and Rock, is it more traditionally founded or does it have the same strong US-American influences as in Germany? Apart from the Bavarian culture (including the yodeling you have mentioned), American Pop has become a blueprint for mostly all of our music.
ED: Of course i've heard of Kraftwerk, also i was quite the fan of Rammstein when i was younger (mostly because of my brother) and i've heard a bit of Can, not my thing but i found them one day that i shared a song of mine on the vaporwave subreddit and someone compared my "lifeless monotone" voice with the singer Damo Suzuki and it should be appreciated in that way… i don't know what to say about that statement hahaha.
I couldn't talk about specific ages of the Argentine music but it'd be easier if i just recommend you some of my favorite Argentine acts [see chart below] so you can check them out and make yourself an idea: One of my favorite Argentine bands is Virus, they used to make 80's synthpop/new wave. Another great examples of music inspired by those genres are Charly Garcia and Fito Páez's first albums. Anything that involves guitarist and singer Luis Alberto Spinetta of course, he's such a musical genius, ranging from traditional folk to psychedelic and jazz rock. I'm surprised you didn't mention Soda Stereo, they were one of the most beloved and popular acts, also new wave and shoegaze inspired, you should totally check out them both the band and Gustavo Cerati's solo work. I'd finally recommend as more recent acts singers like Lisandro Aristimuño and Juana Molina, both involved in great weird pop folktronica that will sure blow your mind.
HCW: Thanks! I'll dig into this for sure as I'm mad for obscure music as well as an excited explorer of foreign cultures. On a side note, for me, personally, Rammstein are gross, I can't stand their pathos and teutonic aesthetics at all. I'd rather prefer other German bands (of that kind), DAF for example, who probably were one of the first EBM acts out there – two men, drums and a sequencer. I can also recommend a kinda surreal band from Cologne – von Spar – especially the Foreigner album from their 2010 Krautrock influenced era.
Since you have mentioned Synth Pop now, I feel I should note at this point, that I'd ususally reject all kind of retro bands, all those art school combos (good looking singer with a wedge haircut, brilliant musicians on the strings and an ugly keyboard nerd) bore me to death. Also, for me, Synth Wave is a dead end road with no exceptions. Compared to the diversity of Vaporwave et al. these bands never evolved. All the revival movements and retro acts don't really touch me. I would always prefer the original stuff or, if it's new, it must move me somehow. I also await a certain courage, a minimum of risks taken by releasing non-opportune music and a healthy maximum of crazyness. One artist, for example, who quickly won my heart, was John Maus, because he has so much more to offer than just synthesizer memorabilia. I adore his way of writing and making music, his lyrics and his introverted persona. So far, only you have gotten this far, even though I won't compare you in a direct way or anything, neither regarding your output, nor your persona. But both of you made things happen your own way. My honest respect for this! What do you think of him? I hope I'm able to interview him one day. Other exceptions I'd like to mention because I really enjoyed them were von Spar (see above), the early Com Truise and recently Prikamie from Murmansk, Russia. Their joyful "Everyone" blew me away because it has such a summerly vibe, albeit coming from a quite hostile subpolar harbour town far in the north! It also works fine with the fan vid someone made for them.
ED: Well i've listened to everything you sent to me and i can really tell why do you find vaporwave (and some of my music) so appealing. Com Truise is quite appreciated for the vapor fans as HOME is, both more synthpop oriented but with fine vapor ties. You'd probably love Iglooghost music too and Windows96's last albums. I loved the aesthetics from the music and videos of von Spar, it's definitely something that i'd sample from both image and sound.
Regarding John Maus well…what can i say? i totally love John Maus! I found his music while checking Ariel Pink's info (he was a bandmate of his, gotta say i admire how Ariel was surrounded by that amazing talents such as Gary War or Geneva Jacuzzi but John is the best for sure). You can get a lot of hidden gems straight from the bands you already love, exactly how i found Mac DeMarco's ex-guitarist's very own band Homeshake (that became one of my favorite bands of all time). Pete[r] Sagar is king, i stan Pete[r] Sagar.
Coming back to John, who wouldn't be amazed by his live energy and persona? My favorite songs from him are "Just Wait Till Next Year", "Maniac" and "Bennington". I haven't checked a lot of his lyrics so i can't speak about how he writes but i admire him a lot. He sounds so minimal but at the same time, gives an amazing raw/ethereal ambience sounding both fresh and retro, rebel and tortured. Wish i could see him live at least once…
HCW: Me too. It was devastating to hear of his brother's death during John's tour through northeastern Europe together with his magnificent live band. I would have seen him there the upcoming days but the tour was cancelled for understandable reasons. As for his songwriting, you may know he used to retreat to a remote cabin to work on his music. He is an autodidact and very eager to dig deep into musical history in order to create the soundscapes he had imagined. He even learned to built synths by himself. Those may give his music the well known 80s vibe but he also quotes far older music as his main inspiration, like Johann Sebastian Bach's famous fugues and other compositions of the Renaissance era. Please tell us about your personal inspirations.
ED: I feel it's easier for all of us, when I give you some examples. These down here are great popular songs in my country that insprired my way into making funky and emotional synthpop.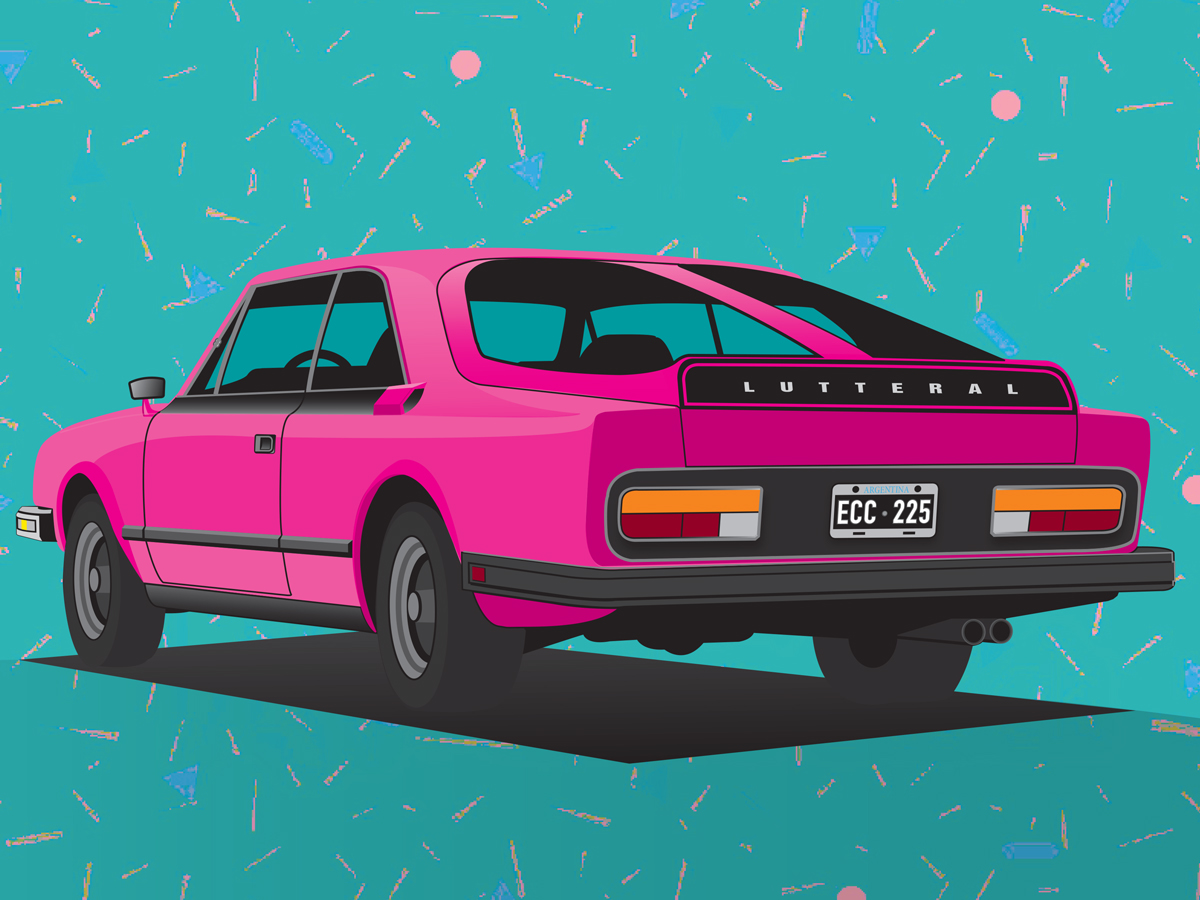 HCW: As far as I know, Argentina had a notably delayed experience with the economical boom and upturn of free capitalism/neo-liberalism, the infamous era all western countries would commonly describe as The Eighties. It wasn't until 1989, when Carlos Menem won the presidential election, that things changed for your country. With Menem, who embraced policies of neo-liberalism, deregulation, privatizations and non-protectionism, the Argentine economy could normalize for a brief time, approximately until 1995. You grew up in the 90s. Did this decade felt like "our" Eighties to you? What are you memories of this era and what may have been a childhood inspiration for you? Could you recall any aesthetic impressions, that propably linger on in your arts, for example 90s TV series, jingles, adverts and so on?
ED: Yeah, you could say that. As a kid i didn't have a clear concept of money 'cause i was always too shy to ask my mom for some cash but for sure we were better than in 2001 but since i just had 11 years i barely remember that chaos. I also grew up as a low-middle class boy so i never had cool things like a computer (which was my biggest wet dream, that i could barely achieve in 2006 when my aunt gave me her Windows 98 PC as a gift 'cause she got something better) or nice gaming consoles as the N64, Gameboy Color or Playstation 1. The biggest console i could put my hands on was the Sega Genesis that belonged to my stepmother and oh boy a lot of my nostalgic memories come from that console.
I could say i was lucky i grew up as low-middle class since it helped me to grow as a money saver, while my stepmother show me a far better life, not extreme luxuries but for sure it helped me develop some ambition in me. I had the best of both worlds.
I used to spend the whole weekend in my stepmother's apartment. She used to have dinner with me and my stepsister at Friday where we used to drink lots of 7-Up (my song "the uncola" is an ode about that) while i spent the Saturday nights alone taking care of the apartment as my stepmother always traveled to a close city to have an affair with her boss.
Those nights the Genesis was all mine and i played Sonic 3 for hours and when i got bored of playing i just started playing the songs in the sound test while making up lyrics for the songs (i could say i do the same nowadays, singing over other people's music so i like to think eccodroid as a whole is a cute tribute to those nights when i dreamed about being a popular singer). I also had the Cool Spot game which cemented my love for the uncola and the Fifa 97 Gold Edition for the part of me that wanted to be a professional soccer player.
Regarding television in the late 90's and early 2000's, my best nostalgic memories comes in the form of a TV channel called Magic Kids. I used to watch A LOT of great anime series in that channel: Dragon Ball and DBZ, Saint Seiya, Captain Tsubasa, Ranma ½, Detective Conan, Slam Dunk, Ghost Sweeper Mikami, Koni-Chan, etc. Except Koni-Chan (who has legendary status for me), all those animes were just ok cool nice memories, but the shows that meant for me the most were from other channels: Pokemon, Digimon, Yu-Gi-Oh and Card Captor Sakura.
I got the Pokefever in the early 2000's as most of the kids in Latin America. We wanted to catch 'em all, but the closest we had to do it was a sticker collection that came on chocolates and gum. I wanted a Gameboy so badly but i was never brave to ask my mom for it since i knew she couldn't afford it with her actual job. After Johto, i stopped watching Pokemon since the anime got so boring as i was growing older but my pokefever revived a few years ago when i finally got a cellphone powerful enough to emulate Gameboy games.
Digimon didn't give me any sort of "collector fever" but it was an amazing story according to my age and it was what i needed after Pokemon started being so childish for me. Unlike Pokemon, i watched every single Digimon season and 2 movies. Also now that i remember, we had a little "Beyblade" fever with my fellas, we used to create our own fighting tops or trompos.
My next collector obsession that came shortly after Pokemon was Yu-Gi-Oh cards and oh boy how many duels i played with my friends, i was pretty good at it and managed to get so many free cards. And CC Sakura was my first anime crush I WAS SO IN LOVE IN HER, i saw the complete anime plus 2 movies i think just because of her. The anime was ok but seeing her already was a bliss.
I think i covered pretty much the biggest part of my childhood. It was pretty happy overall and i wouldn't change anything. Talking about TV ads i miss the much and why not possible ideas for new songs (since with this interview i realized i covered very few things about my own nostalgia in my songs) were the Pepsi Twist (Lemon flavored Pepsi) and Crazy Dips (feet shaped lollipop with popping candy dust).
In love, i feel like i could do anything so it was so hard to me to find out that this is such a superficial world that we live in, with inviolable limits carved in the skin barely saved by some exceptions who were lucky enough to be in the right place at the right time.

eccodroid
HCW: Modern electronic devices allow us to communicate without boundaries since decades now. We're able to share informations, no matter what the natural barriers or borders may be, as the internet connects people from all over the world. By posting pictures or videos we can share emotions, visually illustrated by gesture, facial expressions or simply by using meaningful text, manifested in written or spoken words. Emotions are often displayed by using metaphors, alegoric pictures and memes. However, music remains the most impressive way to share feelings. If you reconsider how viral a simple piece of music can be, isn't it wonderful, how unifying music is? Apart from the global effects that a catchy refrain or a good hookline may generate, the contents of a song will mostly be interpreted correctly by people from all cultures and countries, even if the lyrics were written in a foreign language. Music itself is like an universal corporate language that is giving us the amazing possibility to transmit emotions, right?
ED: Exactly, in the whole spectrum going from foreign songs to the modern meme songs, music is still the most successful way to express feelings. I just can't imagine a single human being disliking every kind of music at all! Music is a big part of what we are and in my particular case, music is the highway of my own feelings, it's where i turn into poetry my vision of this cruel weird world and every kind of experience i had. I've been making music since 2008 because i needed a way to discharge everything i feel or else i was gonna explode. And being able to share this music online to help me reach a bigger audience to the point there's people from Brazil to Germany, to the UK to my very own country saying that my music somehow is meaningful for them and even inspiring them is insane and the best feeling ever.
HCW: Glad you enjoy this. You deserve it. For my part I can tell you that my kids love your music and are happily dancing to "the new girl" even though they are too young to understand what kind of music it is or what the lyrics are about. Perhaps this just underlines the boundless effects of music. They enjoy it in a pure way, while their innocent minds aren't distracted by unnecessary thoughts.
The micro genres that surround vaporwave and all the associated acts of self-made audio nostalgica are a good example how deep the impact of those shared emotions can be. The interesting thing is: the expressed need for the musical and visual esthetics of past eras seem to be universal. They will trigger emotions, no matter where or when. Scientists have been trying to analyse the emotional impact of music for centuries. Anyhow, there's still no simple scientific explanation. How is it possible, that sound – nothing else than simple sinus waves which reach our eardrums not only get translated to tones (notes), but also will trigger certain feelings? While unsettling and satisfying sounds could be explained by an evolutionary bias (e.g. low frequencies = danger; thunder), scientists don't know how minimal variations of notes can literally paint distinctive connotations in our brain. Even more, music seems to be able to retract hidden or lost memories. That, for example, is a reason why soundtracks have become mandatory in cinema. The musical score will tremendously increase the viewing experience, no matter what kind of film it is. These well-known effects inspired music theorists to explore the psychological side of the phenomenon. As far as I'm concerned, the Strebetendenz-Theorie (Theory of Musical Equilibration) by german music theorists Bernd and Daniela Willimek (first published in 1997) is still the best approach to this topic. In subsequent studies they were able to prove that certain musical accords (harmonies of sounds) will be interpreted the same way all over the world. Flat minor for example is typically associated with sad or tense feelings, while the Major key is aspiring and positive. While this might be a rather well known phenomenon, the Willimeks are trying to explain how this could be. Having this in mind, I also thought quite a lot about the emotions that your music was able to spark in my brain, individually, and I wonder how many of your personal intentions during the production/composing process could as well be found in my interpretation. For this reason, I'd like to ask you for a brief description of the major emotional themes in 'a surreal fashion'. I understand, that music is, to a certain point, meant for free interpretation, so it's not about the details, more about the general feelings that may have influenced this album.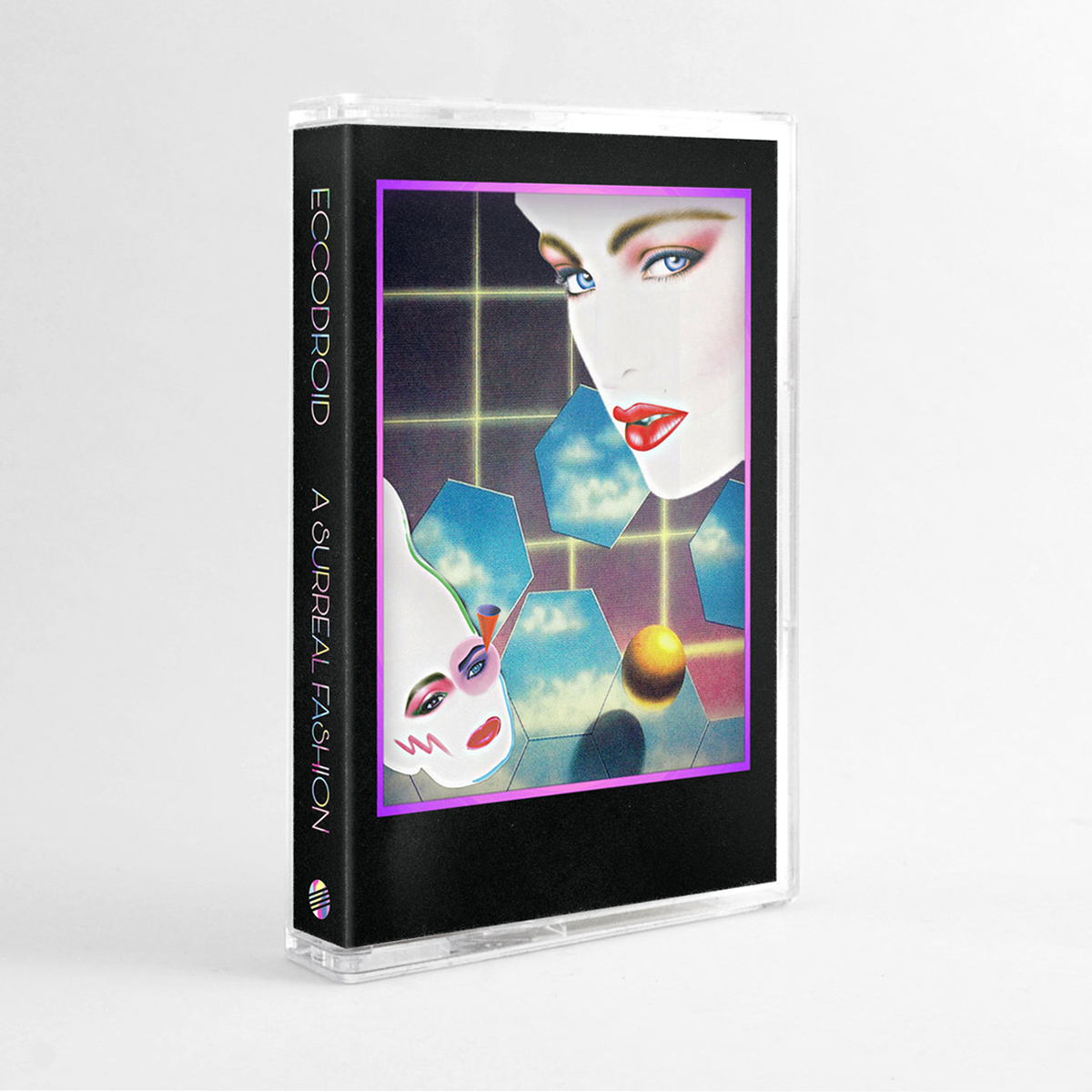 ED: I made "a surreal fashion" as some sort of venus flytrap: it looks pretty shiny, danceable, full of hits at first but once you're inside you end up having such a big surprise. The album seems to be talking about beauty in general, from how it influences love at first sight until unrequited love because of the lack of it. Like i said, it starts pretty upbeat with songs like "la vogue" describing the luxurious life of a famous model, going from "hand me your lipstick" which is some sort of ode to boys wearing makeup and not caring about what people say about it while giving the first hints of the next song in the lyrics "gathering some likeability, lying in the skin". Makeup is deceptive and you're not showing your true self, attracting people because of how you're not all the time, that may leave you behind once they see you in natural. That's why i sing about makeup like it was the final resort of stopping being lonely by lying in your skin.
All that leads to which i consider the centerpiece and the true message of the album. "top model" is everything i wanted to say with this release (but i didn't in every song because this song wouldn't be as unique and i'm not good at making concept albums) and that thing is: most beauty is fake, don't be that superficial, those beautiful people may having a hard time inside those beautiful faces and bodies carved by the gods. It's my way to tell myself and everybody that beauty and superficial things aren't everything, that i should overthrow those insecurities i've shown in the lyrics of "hand me your lipstick" because you're always capable to find someone who would value the way you are and that surreal fashion you're carrying on.
HCW: Thank you for these insight views, so to speak. Personally, I could sense some sadness and depressive traces as I kept listening to this album. While I was reaching the later tracks, parts of your music reminded me of Joy Division and their successor New Order, which both may surprise in regard of your current position in the middle of Hypnagogic Pop, experimental electronic music and Post-Vaporwave. The similarities that I found within my subjective perception weren't that strange to me, though. As you know, most artists in your wide ranged genre, don't record vocal tracks. I guess most of these producers don't dare to sing along and hesitate to add vocals to their songs for various reasons. But you do and that's a thing I highly appreciate! Big respect for doing so and not holding back. And this brings me back to New Order , who not only dared to update the doomy sound of Joy Division by transfering it into an electronic pop surrounding, also did Bernard Sumner have the balls to take over the mic from Ian Curtis who tragically passed away after their second album. I always enjoyed the mix between New Wave lachrymosity and electronic music, which was even danceable. May I ask what do you think about this rather strange comparison or, better said, connotation?
ED: I think you really nailed it (!) though i would add another band to the equation: The Cure. Obviously Robert Smith was inspired by Ian Curtis but i found The Cure really early in my life way before i heard both JD and NO and they remain my favorite band to date. Everything from their darkest years to weird pop delusions has inspired me more than anything i could possibly hear…I connected so badly with Robert Smith since i'm such a sensitive guy as well. For me, love is the fuel of the body, i'm such a romantic guy thanks to the stars who lined up that way when i was born…in love, i feel like i could do anything so it was so hard to me to find out that this is such a superficial world that we live in, with inviolable limits carved in the skin barely saved by some exceptions who were lucky enough to be in the right place at the right time. You don't know how many time i wished i was just an insensitive asexual entity because that would match my sick lack of empathy. I want love cause i need it, otherwise i wouldn't … […]
Though i don't see with teary eyes a possible life alone with no family, cause to be honest i value my peace and freedom to do what i want when i want above most of all. If i'm able to find somebody who wouldn't mind to share, or at least, not be bothered by my music career and the fact i'm gonna be playing videogames till i'm dead, i would totally settle down.
Coming back with the JD/NO thing, yeah, you may find traces of their influences in my music separately like Ian's harsh and dry poetry or Bernard's alternative dance hits but again, i owe Robert Smith the biggest part of the influence i got even from my non-vaporwave endeavors till now.
HCW: This is a very interesting aspect of influence you're bringing up here! I grew up with Robert Smith, The Smiths and Marc E. Smith. Their music and lyrics played a great role in my juvenile life for sure, with The Cure being the ones who accompanied me in regard of relationships, love, lust or grief. I listened The Cure from the 1982 on, from the days when Robert still looked like a young Ben Affleck to the gothic times of "Disintegration". As you may remember [from our previous conversations], I'm suffering from ADHD, which is also related to my high level of sensitivity, therefore The Cure literally served both sides of my personality – the creative, helplessly romantic, embracing side as well as the exhausted, nihilistic and depressive side. I found myself in many of Robert's songs, his introspective lyrics were somewhat matching my inner turmoils, no matter if it was the darkness of "Swimming the same deep water as you" or an up-tempo, love-driven "Just like heaven". Apart from Smith's genius writing I also adore their musical density, which was often achieved by layering spheric sounds, one recording track upon the other, while the keyboard kept its significant assignment as an atmospheric instrument, something that many bands got rid of as they were turning darker or harder. It might suprise that I'm able to sense such emotionally impressive sounds in Vaporwave et al., too and this may be an important reason why I (still) can enjoy it that much. The genre obviously is capable to paint both images of a past world: The joyful, erotic and leisure driven side of free capitalism as well as its dark sides. Would it surprise you to hear, that, for example, "Starry Night in Cairo" (by Wanderlust Caravan) sounds very shadowy und unsettling to me? What is the story behind this project? It's so different, particularly in comparison with your other instrumental project invisible lover!
ED: Well, i don't know if i ever was clear enough about this, but i'm not the kind of guy who enjoys to hear or make ambient music. It's clearly not my field even if as most of the music genres, one or two exceptions exists (like "Marooned" from Pink Floyd or "Samskeyti" by Sigur Rós) that i enjoy over the rest. Hypnagogic Pop is for sure my favorite genre along with Vaporwave, and the first one is divided in 2 different groups though they try to evoke the same kind of feeling: the people who release poppy short tracks as they'd wish they were an 80's obscure popstar (Ariel Pink, John Maus, etc.) and the second group that make drony hypnagogic long ambient tracks (as James Ferraro's oldest works).
There's an artist from the 2nd group of people called Monopoly Child Star Seachers that makes some sort of tribal lo-fi island thing that may not be my favorite thing in the world but oh boy that sounds interesting. Well, the best part of his tapes are the artworks. I'm so in with MCSS' covers, they look like pics from an ancienty story book, i think the technique is called Monochrome or something like that.
I googled some images from old Egypt, used my Picsart app to edit it and there you had, the cover from "Starry Night in Cairo". I loved that artwork so much that it was meant to be an eccodroid main album, but since the samples where too experimental and without the classic verse-chorus-verse, i decided to make it as "Wanderlust Caravan". The album did pretty well and i'm proud enough of it, it's not something i'd regulary hear as most of my music but there it is, as another internet relic to be discovered in the future.
HCW: When you feel inspired or your feelings have been triggered somehow by things that you have experienced, also visually or acoustically, figuratively speaking, things that touched your heart, and you develop ideas for a song (er even an album), what comes first? The sample – as being part of the original acoustic inspiration for example – or the song (melody, mood, tone, lyrics)?
ED: I'd say that most of the times the samples came first and then the artwork, lyrics, etc. but in some cases i made the artwork first and then i started to build the release based on that, trying to look out for samples that fit the aesthetic that i'm providing for the record. I still have so many artworks around in my folders that i'd never found the chance to use but i keep em all in case i'm in the mood to dig for samples of that style. Lyrics always comes last, i even make song titles way before the lyrics, as i consider the artwork and the title of tracks as the main way to catch a listener's attention. Cool or unique artworks and titles are what i'm always aiming for, working most of the times as they're as praised as my production skills.
HCW: I guess that's why certain people, me included, enjoy the genre so much. It's a holistic multilayered art form which can be a time machine (Vaporwave), a mind-blowing trip (Hypnagogic Pop), it can just entertain you or you accept it as an ironic contribution to our crazy post-modern world. Whatsoever, there's no doubt that the visual artworks play a very important role in the whole story. We once have lost the amazing indentation of 12″ vinyl sleeves by the introduction compact discs and, further on, digital music files, so it's a good thing to witness the comeback of cover artworks, which now can be experienced in physically-present forms like tapes, vinyl releases or even 3″ mini discs and floppy discs.
Apart from the design: What are your tools to create songs and albums? Once saw you playing some keyboard in a tweet. Do you have a certain musical education? And how did you learn to achieve the crisp sound of your recordings. 'a surreal fashion' for example sounds amazing – so does "nightview" (by invisible lover)! Could you please describe your technical set-up, as long it's not your personal secret of course?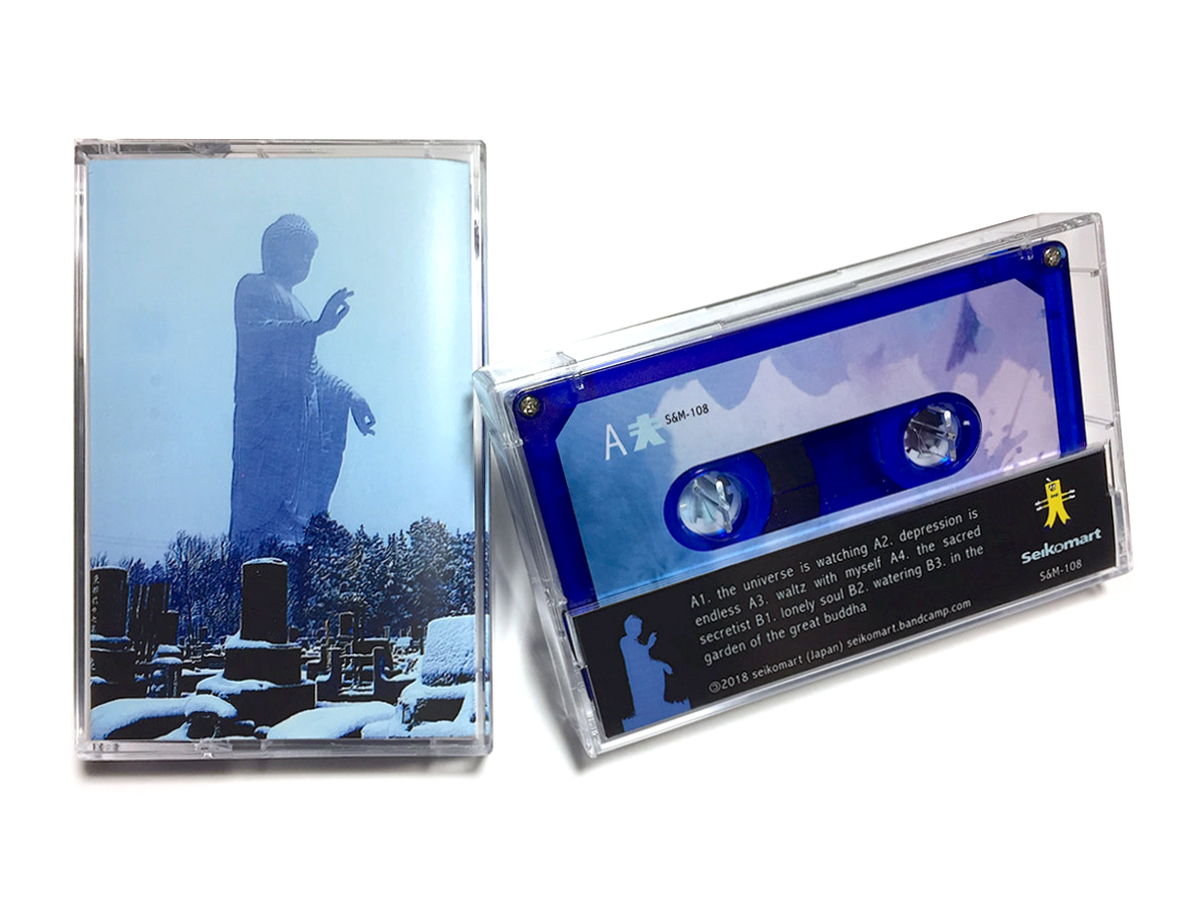 ED: I'm a self-taught piano, guitar and bass player. My very first interaction with a real piano was in 2010 (so far i had only played with software that emulated keyboards and somehow managed to make music for 2 years way before i knew anything about chords) when i used my very first salary to buy a Yamaha PSR-202. I always loved the piano so badly with bands like Keane or Coldplay getting rotation on my cellphone but in 2014 i decided i wanted to learn guitar because all my friends knew how to play and it was the kind of instrument you can carry anywhere and use it without electricity.
I've used this knowledge on my main vaporwave project, providing guitar solos to "watery textures" and "lysergic state of devotion" and synths in every song i feel too empty.
Well, the key element of my production both in eccodroid as in invisible lover is the Soundgoodizer plugin on FL Studio and to know exactly which sample requires it. That plugin is the secret behind the "punchy-ness" of my songs, and as its name states, it makes things sound pretty good, but NOT always.
For the lo-fi atmosphere i use either Ferox [by Jeroen Breebart] which is some sort of tape recorder simulator or Fruity Love Philter [FL Studio plugin] and play a bit with the frequencies. I also love to add Wow & Flutter [by Interruptor] to give the instrumentals that detuned hypnagogic feel. I pretty much use the same plugins for my voice mixing, plus reverb or delay (delay mostly on the falsetto chorus parts).
HCW: Wow. You pursue these intentions with real determination! And this with a very pleasant and enjoyable outcome. Your remarkable efforts certainly deserve a lot of respect, especially due to the fact that you not only contribute 'chopped and screwed' samples but also a lot of individual substance. As I said before, not many artist in this rambling genre would go so far to record own guitar soli, let alone their own voice singing. In a private conversation you have described yourself as a recluse, a barely communicative, mildly autistic person, almost a Hikikomori. Would you agree that the way you got to live due to Asperger's is both a blessing and a curse? Furthermore, in a broader sense, has this life, which may impose certain privations in regard of friendships, relationships and social life in general, a perceptible infuence on your music? In other words: How much of your music and lyrics deal with personal feelings or issues?
ED: Asperger's is not the worst thing in the world but it's no blessing at all. I'm glad that my obsessions keep me as a productive being always trying to learn how to push the boundaries of what i already know but it's mostly downsides.
The social aspects are the hardest ones to deal with though i rarely speak about them in my songs since i reached a point in my life where i've accepted that i just want to be social because most of the people is, and society somehow pushes me but to be honest i don't desperately need to be social. I have all the friends IRL i can manage to give time of my own, i have my family, some people online and that would be it.
Time is the second most valuable thing the humans have, being their lives the first. You can't rewind time, you can't retrieve lost time, so you better think well before getting involved with people that won't contribute anything good for your life. My music would be like an ode to the human wish to manipulate time while mourning the things that get lost and erode over the years.
Over the years i've been trying to make my lyrics way less personal that they were in my first album, because i feel i could even end up boring my listeners, become predictable or just wasting vaporwave's huge spectrum. But being less social means less new experiences meaning no new things to talk about so i'll end up with the same muses again. I guess i'm gonna talk about my loneliness, drugs and weird POVs forever in my songs but always searching for a way to make them less obvious and more fitting to the genres i'm working on.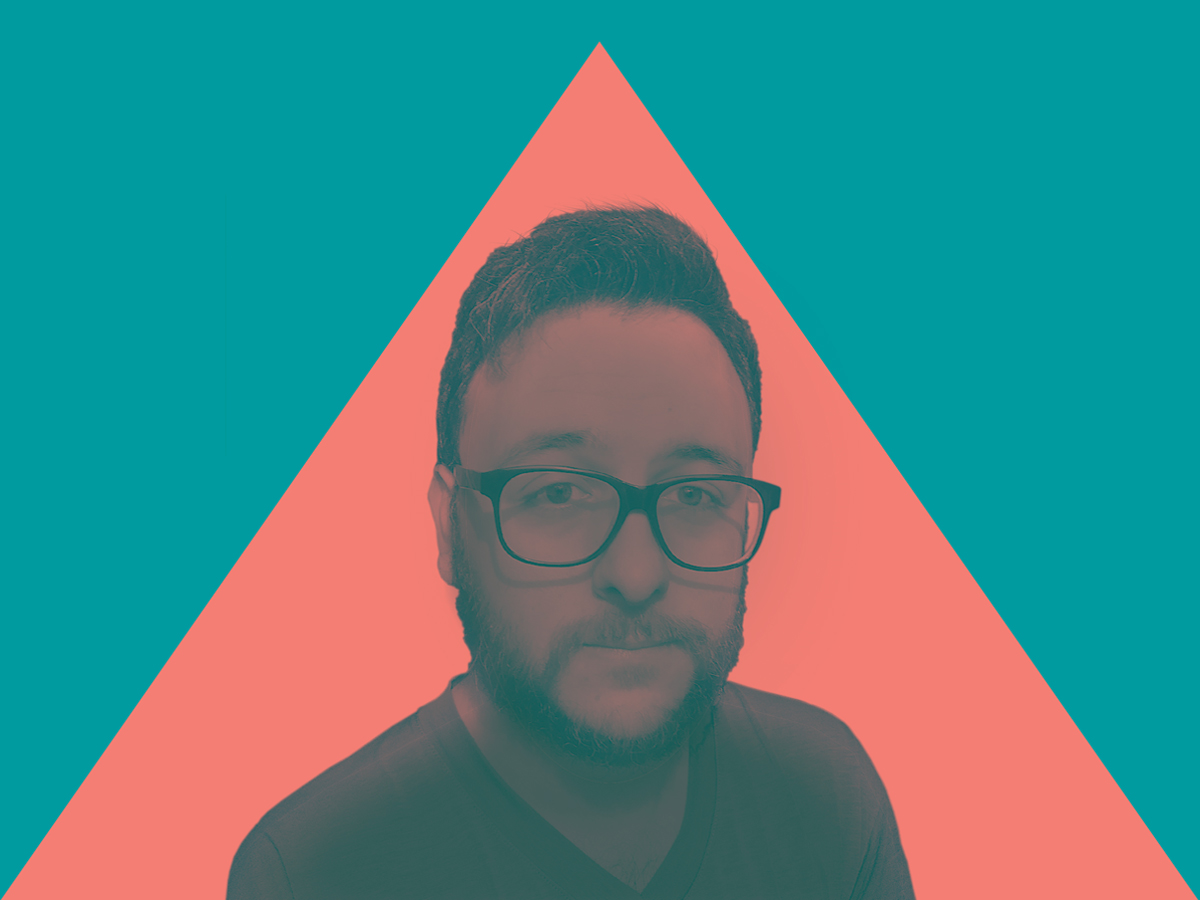 HCW: Honestly, I doubt that any of your listeners would have a problem with the latter. Music has been an outward projection of the soul since ancient times. In terms of contents it was always about emotions in all their diverse guises. Well, that's what the vast majority of people would expect from music. Artists strive for expression combined with success, while the listerners have a longing need for recognition and projection: '… like this song was written for me!' This exclamation should be regarded as one of the greatest compliments on the artist's work, since it is another proof that the old concept of music is still working. However, some artists, for many reasons, will try to get away from the odd themes and methods. Different attempts to get beyond mediocrity have been made, resulting in experimental or minimalistic music for example and with regard of content, controversal political themes as well as explicit lyrics found their way into the lyrics, probably to push things forward. Could you imagine, for instance, to propose political views by your music? Would you ever use it to send a certain message?
ED: This is a rotund "no". I know nothing about politics, for me left and right are mere directions that say nothing to me. Maybe some of my points of views could categorize me in some places at the political spectrum that i'm not aware of but i live my life completely ignoring politics as i do with religion. I can understand both are necessary for a lot of people in the society but no for me. I wouldn't even vote if it was for me but we have to pay a penalty fee if we don't so i go anyways and just pick the most unpopular choice to make my vote worth even less.
I don't know if this got something to do with the terrible political situation of my country; as i powerless see how every new candidate is worst than the last one, sinking my country even more in the dirt, or it's just me.
So obviously no, i wouldn't use my music for anything political related.
HCW: I'd second this! Political statements, even the "good" ones, will always stirr up things. Taking sides with political opinions will also bother certain groups of your fanbase, especially those from foreign countries, where things might be interpreted in a different way. Furthermore, being too political always involves the dangers of double standards. That's why I personally despise woke artists, particularly rappers, those who usually spill out rhymes full of misogyny, homophobia, drug deals and shoot-outs, then have the nerves to rant over police brutality. It's pathetic. But enough of this! Let's talk about the free world of 'our' genre, a music going beyond national borders and political systems. Vaporwave seems to work all over the world. Stunning artists keep popping up everywhere. This never ceases to amaze me. How do you see the general evolution of the genre? Are you in contact with certain artists, for example those from South America? What kind of collaborations are you dreaming of?
ED: I'd say that rather than evolve, the Vaporwave umbrella takes over everything that the artists do. That's why i describe Vaporwave more as an artistic movement than just another music genre. Without Vaporwave as the main genre i'm pretty sure subgenres as Future Funk would be part of the House genre, Dreampunk would be a subgenre of Ambient music, etc.
The only direct evolution i see is the big step from Proto-Vapor to actual Vaporwave. Proto-Vapor is dry, it's mostly consisted by slowed jazz intros repeated over and over again or ambient landscapes slowed down to the point they're unrecognizable so they sound out from this world (as most of the things you could slow down by 800% from Radiohead to Justin Bieber). One of my most unpopular opinions is that Proto-Vapor is too overrated tho necessary but i'm glad Vaporwave didn't get itself stuck in that form.
The social aspects of the genre had evolved however. The Vaporwave scene went from a bunch of anonymous dudes doing weird music to a big heartwarming group of people that support each other to the point Vaporwave live shows or tapes exchanges are common. Yeah for sure sometimes the scene has its flaws as everything since humans are not perfect but i feel pretty fine around it and becoming part of it was one of the best decisions in my life.
Regarding Latin American artists yeah, i've been in touch with a lot of them. Diett Colaa/Vercetti is for sure one of my biggest friends in the scene and he's also from Argentina. I've talked with both Bbrainz and Cyberlust, the most famous vapor producers here (such an honour to be honest haha). Producers from Brazil, Chile and Mexico also have been very friendly with me.
And talking about collabs well … to be honest i've grown tired of collabs. I loved all of them that i could manage to release but i've experienced a lot of bad things while collaborating that i don't wanna speak about. But for sure i always dream about collaborating with singers in the scene as Dan Mason, SURFING, Nanoshrine, Whitewoods, 18 Carat Affair (George Clanton and Skylar Spence [fka: Saint Pepsi] too but that would be aiming too high) or mostly instrumental producers i admire a lot like Windows96, DDS.wmv, telepath テレパシー能力者, Runners Club 95 or bodyline.
Even though i'm tired of collabs, if i just gotta put my voice over a track that i totally enjoy, i'd probably do that. And i have a problem that it's so hard for me to say no, so even when i said "ok no more collabs" i have 2 pending collabs at the moment for example haha yeah i've been kicking them for months but they're gonna be great for sure. If someone have the enough patience to work with me, we can manage to do something good.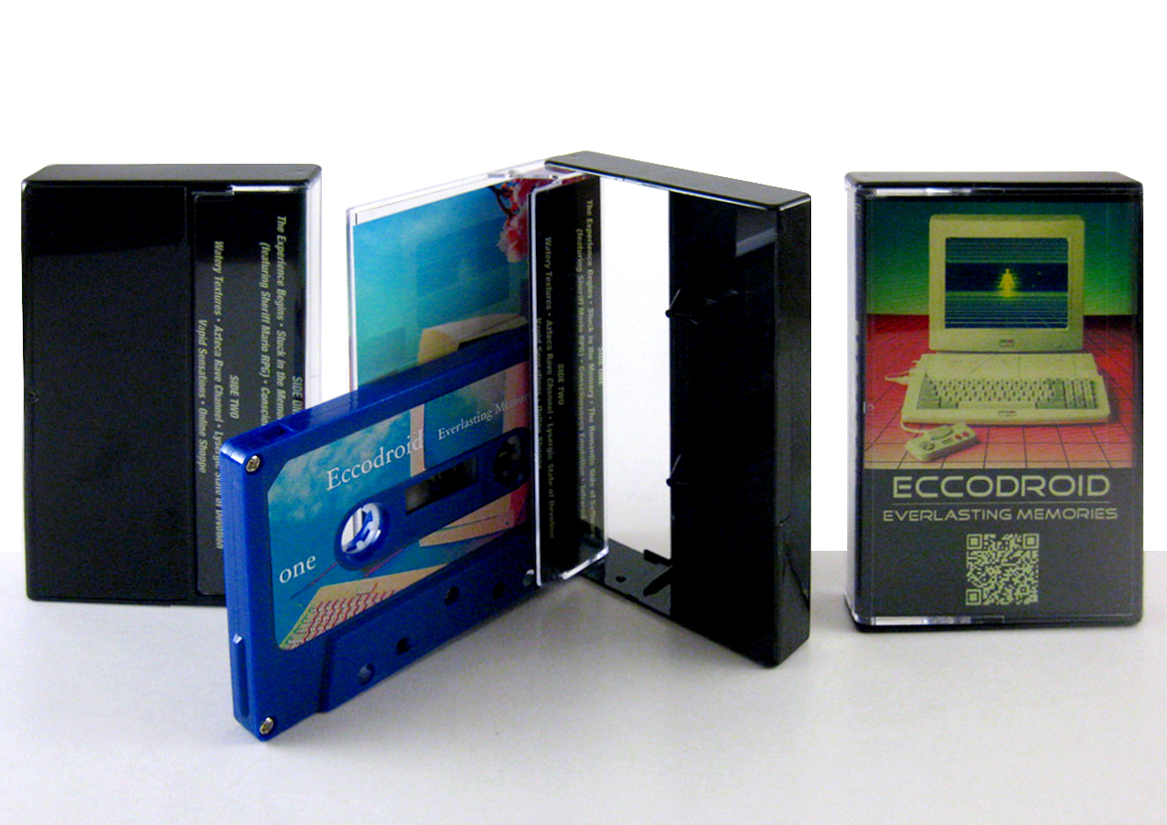 HCW: Well, allow me to suggest the following additions to your thoughts on Vaporwave: For me, this relatively small (and even secret) movement is the artistic equivalent to the common phrase 'power to the people!'. It's nowhere a radical or revolutionary thing, yet is was able to grow and sprawl in the shadow of the established music business. You are, obviously, a prime example of this, since your are all in one: writer, composer, singer, musician, producer, designer, manager and so on, all without being dependent on the smug biz. While this is nothing new in the world of music – branches of Punk or Hip Hop had their independent moments as well – it's the corporate theme of 80s/90s, nostalgica, muzak, overall aesthetics, etc. that divides it from the willingly trashy releases of the old Homerecording scene. Even the usual tongue in cheek Vaporwave tracks contain a secret devotement to the samples. So do the artworks. Furthermore, some of the songs sampled, those that may have been known as awkward examples of cheap commercial pop, suddenly turn up as shiny pearls after the whole Vaporwave treatment. Even with the supposed irony in it: This form of recycling is amazing!
So here's my last question: Why don't you sing in your native tongue? Could imagine this could be bring in a really nice feeling to it. Believe it or not, I'm quite the fan of Julio Iglesias' classic love songs and although he also sung them all with German lyrics, I think the original versions express even more emotions.
ED: Actually i sang in Spanish in some eccodroid songs like "Reliquias Antiguas" but i know it's not that often that i do.
I started learning English basics with my stepmother since i was 5 until her death 10 years later. She managed to grow in me an infinite love for this particular language. Then i started to listen to international music (mostly from the UK) and when i could realize i was making english lyrics.
First i started singing in English because i didn't want anyone of my friends to know exactly what i was singing about but with time i realized that i was able to express my feelings in a better way in English since Spanish just feels to fluid for me. Yeah for sure i can make a Spanish song to sound sad or chill but in my head is not the same. There's something in the way i can song things that makes me feel i'm either being truly me or playing a character. Besides i feel i sing a bit better on English, maybe i'm already used to after almost 12 years singing.
HCW: Thank you very much for this interview.
Discography
Text/Interview: © Hans-Christian Wichert
Titelbild: © H.C.Wichert
Fig. 1: © H.C.Wichert. The Lutteral Comahue was an Argentinian GT Sportscar based on the IKA Torino coupé.
Fig. 2: © 2019 – Business Casual
Fig. 3: © 2018 – Seikomart (Japan)
Fig. 4: © the artist himself (artwork: H.C.Wichert)
Fig. 5: © 2018 – Hairs aBlazin'
FL Studio ® by Image Line Software nv, Gent, Belgium