Another one likes the dusk
Waterfront Dining, mein allerliebster Vaporwave artist hat bereits über 60 Alben auf bandcamp.com veröffentlicht. Sein Werk unterscheidet sich meinem Empfinden nach bedeutsam von den zahlreichen, beliebig reproduzierbaren Trash-Releases der Szene, obgleich er letztendlich auch nur deren handwerkliche Techniken einsetzt, dabei jedoch ein tiefes Gespür für die Emotionalität der von ihm verwendeten Samples offenbart. Aus einem reichen Portfolio schwüler, testosteron-geschwängerter R'n'B-Tracks schöpfend, erschafft er diffuse Szenen im nostalgischen, pre-feministischen Kopfkino, in denen sich makellose Schönheiten der 80er im Manhattan-Penthouse den silbernen Pelzmantel abstreifen, nachdem sie ihr unbeschreiblich wohlhabender Liebhaber zum Dining an der Waterfront ausgeführt hat. Ein bisschen wie Bret Easton Ellis' American Psycho – nur ohne die Morde. Und wem das zu narzisstisch und kühl erscheint, kann auf WD's eher sonnengetränkten Alben virtuell von Palm Beach nach Key West segeln und dabei an George Michael im Video zu Careless Whispers denken. Überhaupt entfaltet die Musik ihre Wirkung am besten während eines spektakulären Sonnenuntergangs – idealerweise gefiltert durch Lamellenrollos. Sind diese nicht zur Hand, kann man auch zu Beginn einer Nachtschicht in seinem kargen Büro hocken, die Augen schließen und Waterfront Dining's exquisiter Musikauswahl lauschen. "I'm driving through Miami in a teal coloured Testarossa." kommentierte ich einst eines seiner YouTube-Videos, um das dazugehörige Gefühl zu beschreiben.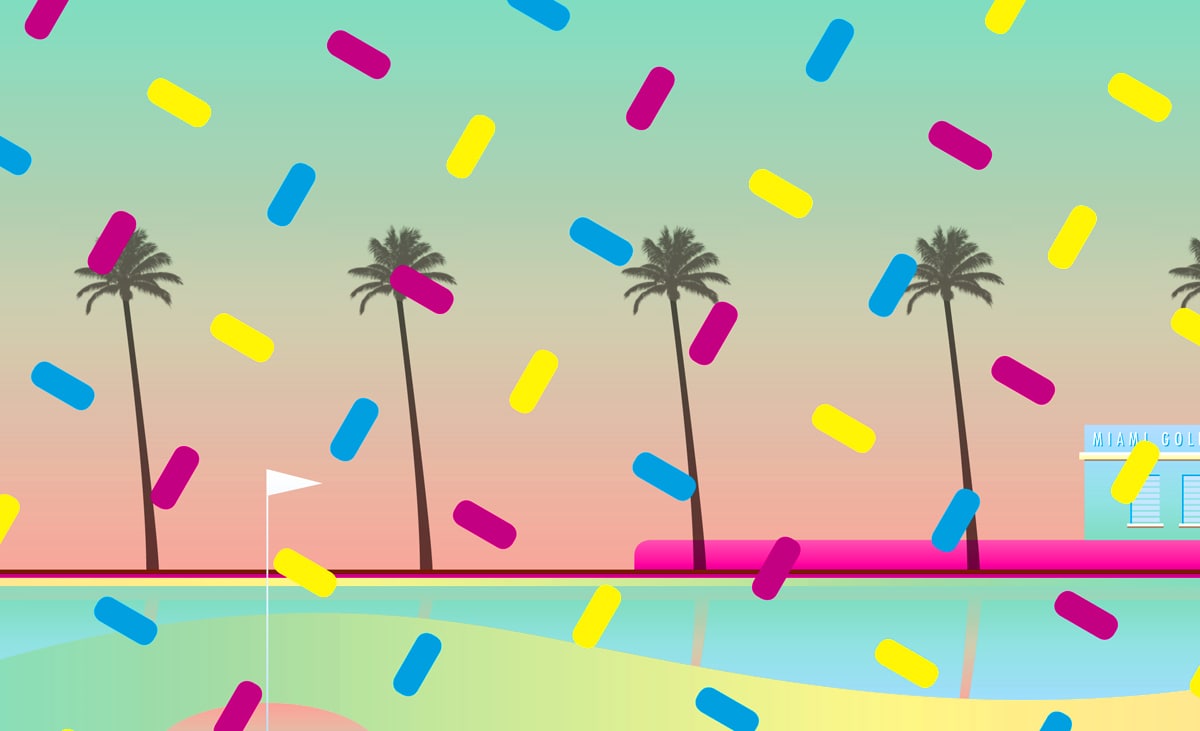 ▾ In einer inspirierenden, sozusagen transatlantischen Conversation habe ich mit dem anonymen Künstler aus Toronto (Canada) über ganzheitliche Konzepte, die kulturelle Bedeutung von Vaporwave, die philosophische Betrachtung dessen und natürlich über AESTHETICS – dem allgegenwärtigen Schlagwort des Genres – gesprochen.
---

HCW: In 1985, John Oswald wrote his important text on contemporary music – Plunderphonics, or Audio Piracy as a Compositional Prerogative. Recently, critics have rediscovered the word to describe the nature of Vaporwave, often with a negative undertone. Some even wrote that by having a laissez-faire or dishonourable relationship to copyrights, Vaporwave producers would use any sample they can get their hands on, thus their output of mindless tracks, concocted at breakneck speed is enormous. Your music, though, in regard of the term plunderphonics, seems to be carefully chosen. The tracks you're using are mostly long forgotten titles, sometimes b-sides or the ones which were overshadowed by a successful single on the album, perhaps they are the typical tracks that people use(d) to skip. Therefore I don't believe it's plundering because you are a discoverer, not a scavenger. An archeologist of hidden gems, one who literally digs the shelves of the (his?) 80s record collection (or the virtual version of this) to bring back the audio treasures of the past. Further, your work on the titles is like wiping off the dust of an old brass chandelier, so that it will shine nicely again. Though brass will never be worthy as gold, it still looks great when polished. For me 'plunderphonics' sounds a bit too negative or cynical. I guess that's more what Macintosh Plus intended with リサフランク420 / 現代のコンピュ – playfully sampling and cutting for the joke of the meme. You, on the other side, seem to take your work quite serious. Please describe your position within this micro-genre. What are your thoughts on all these hyped terms and phrases?
WD: Hey thanks! Yes I am very familiar with the plunderphonics essay, it's really great. I don't see myself as anything other than an artist. I find those definitions and terms to be helpful in some ways, but detrimental in others. It's cool to perhaps discuss or contemplate on them, but I guess by nature most definitions are very limited in their scope and I feel as an artist that can get in the way of what you want to do creatively. I just try to have a balance, stick to my vision, and do what I love to do regardless. I think you've done a neat job in describing my place, as I just want the art and music to speak for itself.
HCW: Some years have passed since some people – who, I would ask myself – claimed that Vaporwave is dead. Other people invented new micro-genres to describe all the new releases that seemingly ignore their own death. There's Hardvapor now, Mall Soft, Trumpwave and even Fashwave, as the alt-right is trying to jump the train. Since I have witnessed all of this word-bending crap with Heavy Metal in the 80s (Speed, Trash, Black, Death Metal … who cares, in the end it's still Rock'n'Roll), I can't take this very serious(ly). Most of those people just want to sound important, I guess. However, their convoluted talking doesn't provide anything to the creativity of culture. Good to hear that you don't care much about this either. I like your self-defining position. You maintain being just a free artist. In today's popular culture it might be important to cut all the uninspiring strings of nerdy and sometimes even narrow-minded micro-definitions.
WD: I agree it can all be quite exhausting. You have the right attitude I believe. I stay away from anything that perpetuates hate on other human beings, especially when it involves convoluting an overall positive, sophisticated subculture to fit an unrelated twisted agenda of hate or control. But that's life. If it adds to the pool in a creative, positive way without hurting other people it's totally cool with me. If not, they can go you know what. But I'm going to assume, excluding shitty hate groups, that most people are just trying to have fun most of the time and not hurt anyone, which is harmless and makes me happy as it shows they have a passion for the music and what they love. It's the negativity and hate that is toxic.

HCW: You must either know a lot about yesterday's music or you're listening to music very often, checking hundreds of tracks per month, at least in my imagination. Please describe how you discover the titles you've used. How do you choose them and what do you do to them? Again, the common description of chopped & screwed has quite a negative connotation for me, even though that's what you technically do to the originals.
WD: I discover mostly online, whether that's downloading, buying physicals off Discogs, etc. I love digging around in record shops and thrift stores as well, but you're limited to what is there at the time. You're not able to research and access like you can online. As far as how I choose them, it's got to be something that moves me first and foremost. How I shape them depends on the track and what I'd like to hear happen I suppose. If I can't pull out what I want to, I'll have to ditch the sample and unfortunately move on. It's hard, especially when I like the source a lot. There's no set pattern really, and each track and album presents it's own unique challenges. That's part of the fun. It's chopped and screwed I guess if you want to call it that. Again, it's a limited definition as I believe there is a visual and presentational aspect, and recontextualization of samples that is absent from most chopped and screwed that I've seen and heard, that I feel wd embraces fully. But I guess it's technically correct to label it as such. In that case vaporwave might be closer to what you're looking for, but eventually that definition falls apart, too.

HCW: When I attend some odd 80s Revival Party in Germany, the set list will always be the same: Simple Minds and the likes. Boring. Also, in Germany not many people are into 80s/90s R'n'B (anymore, this scene vanished after 1995) or funky Pop (as it's regarded as non-intellectual, commercial trash), the retro focus is set on 80s Rock, Independent UK and a little bit New Wave. Lately, some obscure people brought back classic Italo Disco sounds but those are club events which won't gather many fans. I wonder why, because the italian scene was tightly knit to german producers and studios (Future Sound of Munich, Georgio Moroder etc), so there's at least an historical connection. Then again, most tracks were released on a german label: ZYX Records. However, nobody seems to care. You never will hear Comanchero or Tarzan Boy at a 80s party. Which is a shame. Are you into this european stuff as well?
WD: That Simple Minds song [Don't you] reminds me of the The Breakfast Club. Love that movie. I enjoy all genres of music. I recently got a chance to work with Sport3000 on his new album Dilate, which was made up entirely of Italo/Euro samples. He's based in Germany. It was really fun and I'm super happy with how it turned out. I don't often work in that area of samples, so it was an exciting opportunity to do so. But sure, I love that stuff. one night stand from Night Lights in Japan is an Italo-Disco sample.
HCW: That's a great album you two have created in this interesting trans-atlantic collaboration! I'm not sure if you, as a Canadian, can sense the fine difference in mood and atmosphere which comes with Sport3000's music, because for me, it's got that unique german touch. While your music is more uplifting, being a testimony of the prosperous pre-9/11 past, Sport3000 has the darker, quite depressing undertones of New Wave, which was typical for the postmodern 80s in Europe. German culture for instance, was strongly influenced by the threats of the Cold War era, as well as by the repercussions of far-left terrorism. A phenomena, which is quite metaphorically known as German Autumn. I can hear all of this in his music – however, please don't take this as a negative reception. For me, it just has the chilly vibes of darker childhood memories, which I certainly enjoy by times. He has used a picture of the Mainhattan skyline (Frankfurt upon Main) for this release, which is a perfect choice imho. Frankfurt is Germany's financial capital, yet it's nothing like NYC, Tokyo or Hong Kong. It totally lacks the flamboyant cultures of an international melting-pot, well, in our native viewpoint it's in fact the epitome of cold-hearted capitalism. By the way: Düsseldorf would have been a good choice, too. It's a modernist city of money, fashion and advertising, still the city was birthplace of pioneering electronic bands like Kraftwerk, Neu! and many others.
WD: Thank you. Oh absolutely I feel it. That unique sound is what I love about Sport3000. His work feels very dark and European to me, almost like watching a foreign film or tv show. It's what initially drew me into it. I love it.

HCW: I celebrated 猫 シ Corp. for the Sandra (a german singer produced by Michael Cretu) tribute (e.g. Sandrawave – 東京 HAZE). You've worked with 猫 シ Corp. in the past. With Love 愛を込めて is one of my favourite albums. How did this collaboration take place? I heard he/she is from The Netherlands?
WD: Thanks. Yes, 猫 シ Corp.'s based in The Netherlands. We did a couple of collaboration tracks over the years and thought hey, let's do a full length! Our styles and approach blend very well as we share a lot of the same artistic values. We might do another full length together in the future. He's fun to work with.
HCW: All your album covers look like screenshots (stills) from random japanese commercials or sleazy movies. I like the diffuse VHS imagery because it does not only reflect your work perfectly, it matches the emotional effect of your music as well. Whenever someone asks me what Vaporwave is, I describe it as listening to a radio in the 80s while doing homework – you hear the music in the distant, you feel it, but you don't recognize any particular track played. For me, the Gaussian Blur of your cover artwork is a visual equality to this: you don't remember the commercial/movie, but you instantly know it's from the 80s. Please tell us about your cover artwork and how it's done.
WD: Thank you. As I was mentioning before, the visual/presentational aspect is so important to me. It all works together with the music. Album covers tell a symbolic visual and emotional story to my imagination, like a doorway in. I'm very much inspired by film, particularly moments or a few split seconds. Some wd cover art has been from ads, some have been from movies, videos, etc. Not necessarily all Japanese originated though. I suppose it's all some form of imagery from the time period I'm nostalgic for, and has the aesthetic I'm drawn to. My albums tell a story and build an imaginary place, but not overly defined, more like a dream, and I feel the artwork and presentation set the stage for how this will be perceived in the imagination of the listener.
HCW: Your approach is pretty similar to the concept I follow with my work as a designer. In other words: I totally support your 'perfectionist' commitment. It's the professional, yet artistic sense for 'wholeness' that makes your work special. It's refreshingly far away from Sea Punk artwork and dull Mall Music. Since I was young, I've adored the idea of an artistic output which keeps an eye on the interaction of composition, lyrics and cover artwork (later: video concepts, see below). This was emphasized when Hip Hop arrived here in 1983. I quickly learned that true Hip Hop is more than just rapping, it's rather a culture made of different artisan/athletic works in which each artist will stick to the thing he can do best, but still has the knowledge of the true concept as a whole. In the early Hip Hop times, artists such as Grand Wizard Theodore, Busy Bee Starski, Prince Ken Swift and SEEN would stay in their artform of scratching, rapping, B-Boying and writing, but they knew each others well and cooperated. Most likely this is the main reason why Hip Hop could gain so much impact. It felt 'complete'. Diverse in creation with the essential aim to publish a collective piece of art in the end. We can witness an example of this at the end of the movie Wild Style, when Rappers and DJs perform on a stage embellished with graffiti, while the Rock Steady Crew entertains the crowd with their power moves.
WD: I look at all works as a whole and the overall vibe it leaves lingering. I believe that's where the artist's true vision and magic exists. That's really what sticks with me when an album is finished. Same with a movie.
But yes absolutely, I believe it's a collective consciousness that most of these subcultures are made up and born out of, my contemporaries not excluded. It's a very magical and fascinating thing. Again though, as an artist my main concern is creating art I'm satisfied with and that stays true to myself.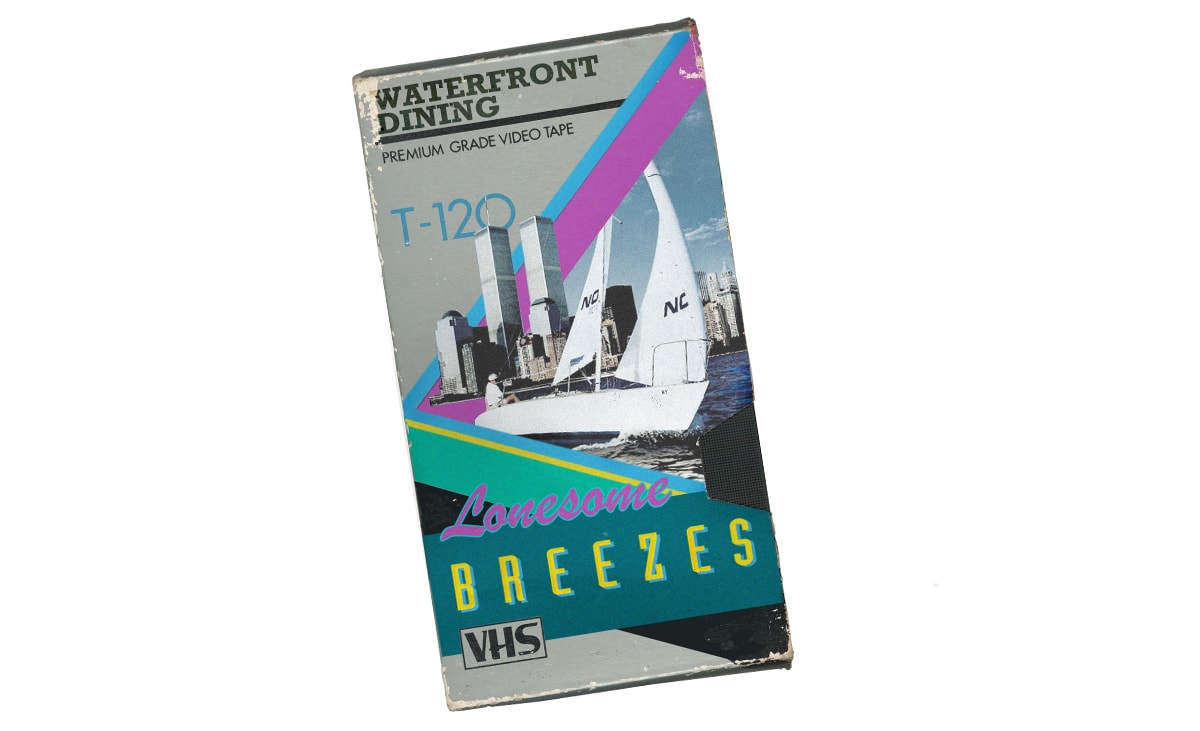 HCW: Your 'biggest fan', Vito James from DMT Tapes [in] Florida, wrote in an ongoing response to your work: imagine what Tokyo must really be like through the eyes of a Torontonian. In fact you always use Japanese letters for your cover design. Nippon culture and its happy 80s consumer capitalism certainly plays an important role in the Vaporwave universe. What's your story here? Is it just a Vaporwave branding or is there more? A personal relationship with Japan perhaps?
WD: Vito's great. Love him. He is very passionate about music so we get along very well. Good friend.
The Japanese text comes from nostalgia as I grew up in the late 80's early 90's when the crossover between Japanese and American culture and technology was becoming very prevalent in the media I was consuming. I love the aesthetics of the written Japanese language, the beauty of it. So it's an artistic as well as a personal choice. I find it inspiring. As a matter of fact though, I stopped using the Japanese text in my album titles around Empress Gardens as I felt it was just time to do so. It just looked too busy with that title. It might sound crazy, but a simple aesthetic change like that can have such a significant impact on my perception and overall approach. I liked what it did to the presentation of the album and was inspired again, so after that I stuck without it.
HCW: Did Vito all those crazy YouTube videos as well? The ones with the 80s commercials? I love them! By the way, there's one particular scene in the video of Estrania's glamour that I kept in mind: there's this beautiful young lady sitting on a restaurant's patio, watching a cute little chipmunk on a branch, dreamingly, before she has to 'return' to her wealthy upper-class life. Is it the light-hearted encouragement to enjoy simple things in life that I felt, or did it remind me of the theory of distraction? Not sure. Then again, the philosophical idea of distraction may offer an interesting perspective on Vaporwave (et al.) and its possible role in modern life's entertainment, so to speak. Siegfried Kracauer was one of the first who used the german term of Zerstreuung to descripe the need for distraction in modern society, a form of leisure escapism as a consequence of permanent stress inflicted by austerity. At a closer look, this term could be a matching term to descripe Vaporwave, since the word 'Zerstreuung' does not only mean 'distraction' in German but also, more directly translated, 'scattering'. Isn't this what Vaporwave really is? Both distraction from our stressfilled presence through a display of scattered samples of the past?
Interestingly, Dominic Pettman recited the term as well in his book Infinite Distraction, which I regard as an important work in the field of the internet/social media critic and interpretation. In his opinion, the endless stream of social media posts creates a permanent disctraction, which addionally is a distraction from the uber-distraction of the internet itself. Perhaps this theory could explain the emotional impact of Vaporwave as well, plus the common comments we can read on YouTube, for example I couldn't stop listening or it's like a drug but legal. Like the common, sometimes rather addictive use of social media's texts and visuals, Vaporwave could be one of the musical equivalents. There's certainly a deep need for nostalgia in all of us. Vaporwave seems to fullfill this desire in a new way, because it's not like listening to an old record. When we do so, the song may end before the memories can fully embrace us. The following track (on the radio), though, could already be a mismatch, as it doesn't fit into our personal emotional memories. On the contrary, Vaporwave rather gives us hints of known songs. The original music is chopped & screwed. By listening to an eternal collage of a filtered or distorted pasts, we can concentrate on the nostalgic feeling the sound can form in our soul. Vaporwave is a rabbit hole, if you will.
WD: Yes, Vito has done a ton of videos for wd! He's hosted the 12 Days of waterfront for a few years as well where he will do a video a day for a different wd track for the 12 days leading up to Xmas. Any video on the DMT-TV or LSTHETIC YouTube channels are done by him. Some great stuff there!
I make videos occasionally as well. I released a VHS a couple years ago called Morning Star Ballads which I did the music and visuals for. It has the complete collection of wd videos I've done over the years included on it as well. Hoping to do another audio-visual release sometime soon. Was really fun to do.
It's the magic of nostalgia and the emotions you might be speaking of. I think it's great to analyze these things as I get much enjoyment from hearing other's personal thoughts on the matter. It's neat. Nostalgia in particular is a very heavy emotion, one that is very hard to explain or pin down as it can be very personal. It's more felt than intellectualized. The rush and intensity of feelings when it hits home can be the equivalent of doing certain types of drugs. That can be very addicting. Not all music does that.

HCW: Since I grew up near the dutch boarder, I was able to listen to radio stations from Holland. I used to lay in my kiddy bed on sunday nights, secretly following the one hour long mixes of Ben Liebrand on my headphones, recording now and then on my tape recorder. I loved how he mixed so many songs together, often just using the instrumental parts or simply the best ones. For his annual retrospective Grand Mix he would work a whole month, ten to twelve hours per day, to finish the mix perfectly. The best dance tracks of the year, condensed into one hour of music. I'm not a big fan of megamixes, but he was special. His choice of titles was immaculate. In some way I regard you as a successor of him. You are able to dissect the songs, so only the best part is left for a crazy loop. One could say, Well, that's what Hip Hop does all the time, but no, you're not really creating a whole new song from the sample. You keep the musical structure intact. That's what I like so much about your tracks. It's different, not just like what Hip Hop producers do. Have you ever heard of Liebrand? Some parts of his mixes are just like the blueprint of Vaporwave …
WD: That's really cool. I would love to visit Holland and Germany one day. Haven't been. I remember waiting all day and night to tape my favourite songs off the radio- then the radio jock would talk all over the whole intro! What an ass! But that's very kind of you to say. I love hip-hop of course, though I mostly listened to early and mid 90's hip-hop. I don't know that much about Ben Liebrand, but it sounds like we share a very similar approach and work ethic. Very cool!
HCW: Both Holland and Germany are very nice countries to visit. Lots of history and interesting places. Hope you can make it here soon! 🙂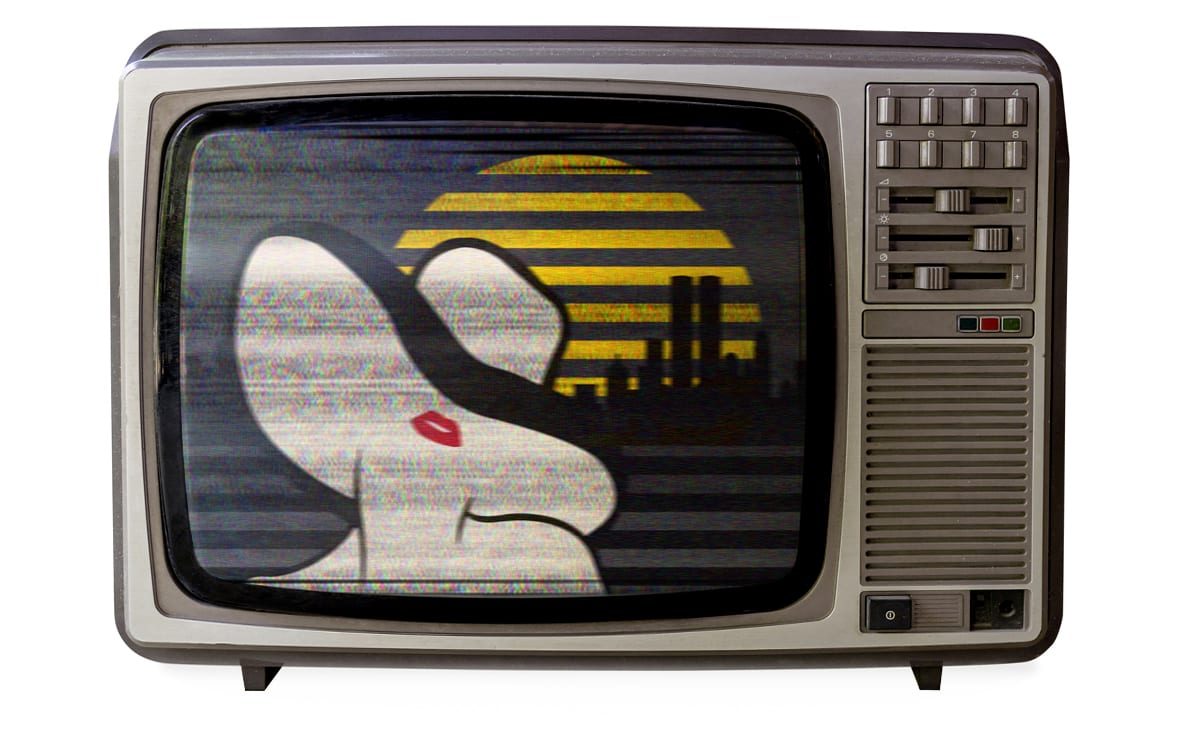 HCW: A recurring feature on many of your tracks is the iconic Roland TR-808 cowbell, it's almost like a signature instrument in your work. I'd like to ask, if you're able to remember the first time you've heard this in your life. Do you have a favourite track that used this classic Electro Oldskool pling!, which, on a side note, doesn't really sound like a cowbell?
WD: Oh the 808 cowbell! I honestly couldn't tell you the first place I heard it. It's embedded in my subconscious from hearing it since I was a kid though. I just find it's a really fun sound, one that is quirky and sounds like it's from an alternate sunny universe. It can be grating on the ears if overused or misplaced though. That's why I sample it sparsely over albums and try to find songs that use it tastefully. It's a very 'summery' sound to me, very playful. The 707, 808 and 909 line of drum machines are so classic and it's really fun and awesome to work and hear them being used before they were 'cool and trendy' so to speak, as that's just all they had to use at the time and what was available to them. It probably wasn't an artistic choice or statement to use a TR drum machine as a lot of musicians hated those sounds as they are very 'plastic' and 'fake' sounding, which is what I love about them.
HCW: Can't remember it either, it certainly was back in 1984 when I heard it for the first time. Got really into it with 1987's tremendous Electro Bass track Just give the DJ a break by Dynamix II (Miami, of course).
Thank you for this interview, Mister WD.
---
Die meisten
Waterfront Dining
Alben sind in digitaler Form bei
Bandcamp
erhältlich. In streng limitierten Auflagen erschienen einige der Werke als Audiokassetten bei
DMT Tapes FL
,
Karate King Records
und anderen Micro-Labels. Darüberhinaus gab es auch Vinyl-Releases, so z.B. erschien das Album
Noice
bei
Time Slave Recordings
.
---
Text und Interview: © Hans-Christian Wichert
Titelbild: © fotolia.com | Datei: #162253125 | Urheber: Mediagram
Grafik "Miami Wicked" © H.C.Wichert
Grafik "NYC Girl with Hat" © H.C.Wichert
Abbildung "TV" © fotolia.com | Datei: #198865873 | Urheber: tortoon
Abbildung VHS-Tape "Lonesome Breezes" © H.C.Wichert